"....I gotta thank the record company. I think I jumped the gun on it, but sue me, I'm a fan...."
-Carson Daly after he aired "California" as his pick of the week on TRL on 1/18/02.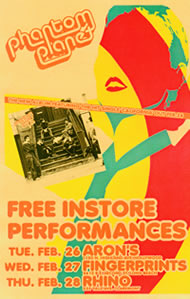 Thanks Suzanne for this ad.
PP article in Bucks County Courier Times
Sept. 10-
By ED CONDRAN
Courier Times

Phantom Planet happens to be part of a new ubiquitous type of band that is coming out of Los Angeles and New York. Well-educated, connected, wealthy kids, who have a heck of a pedigree.

Phantom Planet's drummer Jason Schwartzman is the nephew of Francis Ford Coppola. His mother is Talia Shire of "Rocky" fame. Schwartzman made a name for himself by starring in such films as 1998's "Rushmore" and 2002's "Slackers." Vocalist-guitarist Alex Greenwald has modeled for the Gap. Bassist Sam Farrar is the progeny of singer-songwriter John Farrar, who penned "You're the One I Want" and "Hopelessly Devoted to You" for the musical "Grease."

Each of the members of the band, including guitarist Darren Robinson and Jacques Brauther, grew up in the glittery world of Los Angeles. Troubles were few and far between. "We can't help ... where we come from," Farrar said while calling from Los Angeles. "We didn't pick the situation we were born in to. We're from L.A. but there are a lot of people like us in bands out here and if we weren't any good, we wouldn't be at the level we're at now."

After a spin of Phantom Planet's second album "The Guest," it's evident that the group is more than a trust fund band. "The Guest" comprises pretty, melodic, sunny pop-rock. The disc is filled with infectious, upbeat tunes, which are radio ready. In fact, the group has been fortunate enough to pick up a few spins around the country. The first station to add Phantom Planet to its rotation is Philadelphia's alternative rock station Y-100 (100.3 FM).

"We owe a good bit of our success to Y-100," Farrar said. "It says something about them since they were the first ones to play us. They beat (the influential Los Angeles station) KROQ to the punch. So every time we come to Philly we think about how that's where things started in a way. And we always enjoy the support we get there."

Phantom Planet will return to the area tonight for a performance at the Trocadero. "We can't wait to get there," Farrar said. "We know we're going to get a good reception."

For the next few weeks Phantom Planet will enjoy the role of headliner. However, next month the band will be in the support position, since it will open for Elvis Costello. "He's one of our heroes," Farrar said. "That tour will be awesome."

After that jaunt is over, Phantom Planet intends to record its third album. "We just want to keep the momentum going," Farrar said. "We might have other things going on. Jason does movies and all but Phantom Planet is priority."


"Lonely Day" ad in Beat Magazine in Melbourne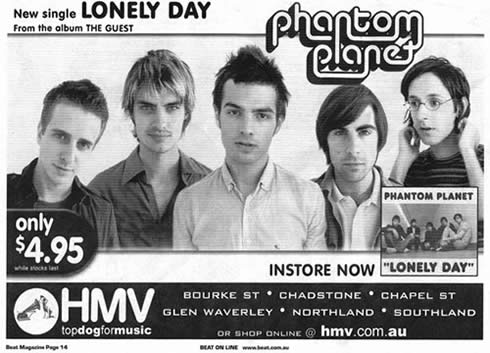 Thanks kissekat from the PPF MB.
Phantom Planet in Australia
New US band Phantom Planet are already turning heads with their debut single 'California', which is set to hit stores in Australia May 20th.

The track was this week's Hit Pick in the industry rag Music Network, a sure sign of big things to come. 'California' - which is the first tune lifted from the band's forthcoming album THE GUEST, due in July - earned the following praise from Music Network:
"Many a song has been dedicated to the USA's beautiful Western state, California and there's a new anthem to add, this time from new rock act Phantom Planet. The opening bars of California wear Travis' combination of breezy pop melodies, piano licks and a similarly warm vocal, before the stretched-out vocal cry of the title line during the chorus indicates a band with greater passion. California is currently on full assault at
Alternative, Modern Rock, Active Rock and Top 40 radio in the US and will find a home at similar formats on these shores."

Phantom Planet will be in Australia in July for a promotional visit.
Thanks Clareinoz1 from the PPF MB for this info.
5/21/02-
PHANTOM PLANET

California (Sony)

Simple, effective. Effectively simple. Simply effective. No matter which way you look at it, Phantom Planets California is a winner. Its nothing we havent heard before its a road song, singing the praises of getting back to the place where the sun shines, the rock rocks and the stereo sounds sweeter but theres something in the way frontman Alex Greenwald theatrically screams California! like he misses it so much he could die; and theres something in that instantly memorably piano melody; and theres something in the great simplicity of it all This is a jangle rock gem, the likes of which hasnt been seen from the Yanks since Matthew Sweet was in his prime, and it is made to be sung along to at volume. Dont believe what anyone else tries to tell you THIS is your new favourite band.


The Guest Reviews
From The Staten Island Advance -6/3/02
==============================================
You can welcome this 'Guest'
-Phantom Planet grows up and produces a keeper
[3.5 out of 4 CDs]
by Ximena Vengoechea
==============================================
The L.A. rockers of Phantom Planet formed in 1995 at the ripe young ages of 14 through 16. Luckily, the band stayed together (with the exception of a few drummers), and have produced their sophomore album, "The Guest."

This album is a delightful array of poprock songs. Their first single, "california" has gained radio play with much success, and the band seems destined for more.

The band's happy-go-lucky songs have themes of love and youth. Their songs center around these emotions in a cheery and almost bashfully determined way of discovering love.

The songs themselves are filled with head bopping melodies. They please the ears in bright chord professions and merry choruses.

The band also manages to include some electronic aspects into their songs. Songs like "In Our Darkest Hour", "Hey Now Girl" and "Wishing Well" include some pop/techno beats without taking away from the band's natural garage band talent.

"Lonely Day," one of the best songs on the album, progresses from soft and mild chords to stronger solos and lyrics. It includes a great bass line as well as an enjoyable tambourine. Other songs, like "California", "One Ray of Sunlight" and "Nobody's Fault" use the help of a piano to enhance their songs.

"Anthem" is another great song on the album, which says, "I quickly ran home to get my guitar, a pen and some paper, because this whole world needs an anthem, and I'm trying to put the words wher they belong, and I'm hoping everyone will sing along."

Halfway through the album the bands begins to experiment a bitmore, toughening up their chord progressions and straying away from the light-heartedness of the first 5 tracks.

In "Turn Smile Shift Repeat" the singer, Alexander Greenwald, sings of workers going through the motions of the Wall Street, comparing them to cattle, who fail to notice actual life and instead "turn, smile, shift, repeat." The song makes a statement and is musically fortified by a saxaphone.

Another mellow song is "Wishing Well," probably the only dreary song on the album. This song has a rainy day quality and takes a bit to get used to. It is the only song, if any, that would be skipped over.

Phantom Planet's album, "The Guest" is a keeper. Their songs are of high quality and even manage to make you smile.
__________________________________
Thanks KaperKat from the PPF MB
My Review:
Coming Soon
Starting with the most recently found review.
"California" video review:
The video for "California" definitely shows the true Phantom Planet. It has footage from live performances and Phantom Planet just being themselves around the US in different locations. It even includes a 101 freeway sign. You know... driving down the 101. I especially like the part where Jacques breaks the flying v guitar and then it shows his bloody finger. It was funny seeing that because I had read all about it in the Tour Diaries. The video also includes the guys signing autographs, eating one of their many sushi dinners, sitting on a giant teddy bear, reading in their bunks, playing around in a music store, and Jason brushing his teeth and then rinsing with Jack Daniels. There's a lot more, but you'll just have to watch the video for your self because any PP fan will definitely enjoy it!