Jason Schwartzman and Alex Greenwald went to elementary school together, but they never talked except during the film class they were both in. Jason had started a band in third grade with his friend Simon and in sixth grade they needed someone else to play with them. Jason remembered Darren Robinson who was in junior high and called him up. When they finally got together, Darren was perfect for the band. They practiced a lot at Jason's house and had one gig that did not go very well.

Down the road, the band got a school gig but decided they needed a singer. This is when Alex comes into the picture. Jason remembered that Alex could sing, so after finally tracking down his phone number he called him. Not long after that Alex brought his guitar and sang. Jason thought he was perfect for the band but not everyone agreed. The band played the gig and it went much better than the first one, but that summer, some members of the band parted ways making Jason, Darren, and Alex the entire band. That summer was also the beginning of "So I Fall Again" and the band made their first recordings.

Then in the fall, Jason spotted a guy named Jacques Brautbar in a music store playing a guitar solo. Jason asked him to play with his band, but Jacques was already in a band. Jason kept calling him until one day when Jason really needed someone, Jacques recommended his friend Sam Farrar. Jason then called Sam. The day Sam was going to go play with Jason's band, Jacques went with Sam to see what the band was like and he actually ended up playing with the band. At this very moment there was Jason on drums, Darren on guitar, Jacques on guitar, Sam on guitar, and Alex on bass. Over the next few months Jacques joined the band and then when the bands bass player left, Sam joined the band. In the future they decided to call themselves Phantom Planet at a Pizza Hut in Westwood after Alex stumbled across an old Neil Norman CD with a song on it that he loved. The song was from "The Phantom Planet" (a '60s sci-fi flick). Then their first real gig would be at the Dragonfly, a 21 and over club in Hollywood, but since they were all still underage, that did not go as well as they once thought it did. Their future gig at The Whiskey that they had wanted so badly would turn out to be much better. Then before they knew it Phantom Planet was signed to Geffen Records and Dan Field was their manager. In 1998 they put out "Is Missing" and in 1999 they put out "Polaroid" through the the fan club for the fan club members.

On September 7, 2001, Phantom Planet started their first official tour, The Detour 2001, supporting American Hi-Fi! Their live EP also came out and The Retour 2001 ended in December. They supported Flickerstick for the first leg of the tour and Pete Yorn on the second half of the tour! Phantom Planet made their first live late night tv appearance on The Late Show with David Letterman on 1/31/02, was on Conan O'Brien on 3/12/02, and will be on Craig Kilborn on 4/5/02. To top all of this off, PP's second cd, The Guest, debuted at #133 on Billboard's Top 200 after it came out in stores across the nation on Feb. 26, 2002!

11/8/02
Wow, The Guest has now been out for over 8 months and "Lonely Day" was the album's second single. PP finished touring last month. For the first time in PP's history, they went on their first real tour, traveled the world promoting The Guest, opened for Incubus in arenas, finished their first ever headlining tour, and opened for Elvis Costello -just one of the many artists PP looks up to. This past year has been amazing in so many ways for the band. PPF has also grown to over 1000 members worldwide and the message board currently has 2128 members. For the message board, that is an amazing number. Last year at this time, there were about 300 people on the message board.
Now, PP is currently taking a well needed rest from touring and are spending their days writing new songs and making album number 3!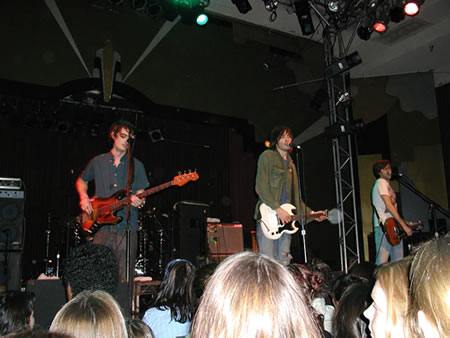 This picture property of Ashley Beasley